Celebrations
Second Annual eQ Homes Toy Drive a Huge Success
Ottawa, ON – The holidays are a time of giving, and thanks to an outpouring of community support, more than 1,000 local wish children will receive toys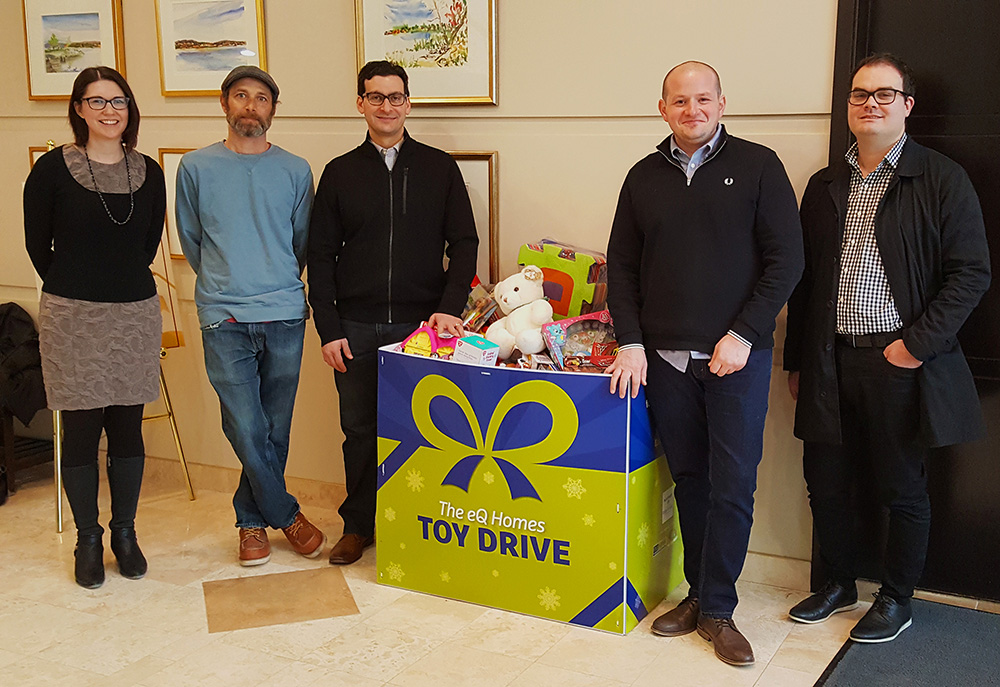 Pictured left to right: Katherine Toms from eQ Homes; Simon Anisman from Mrs. Tiggy Winkle's; Josh Kardish from eQ Homes; Tobin Kardish from eQ Homes; Bryan Swain from Make-A-Wish® Eastern Ontario.
Ottawa, ON – The holidays are a time of giving, and thanks to an outpouring of community support, more than 1,000 local wish children will receive toys.

Benefiting Make-A-Wish® Eastern Ontario, gifts for the Second Annual eQ Homes Toy Drive poured in at each eQ Homes and Mrs. Tiggy Winkles location. With the help of the local toy store, eQ Homes generously matched each donation toy for toy, and donated a toy on behalf of each new eQ homeowner in 2018, bringing the total number to an incredible 1,041 toys donated.
"We're so proud of this year's eQ Homes Toy Drive success, especially since it's only in its second year," says Katherine Toms, Digital Marketing Coordinator at eQ Homes. "Our goal was to exceed last year's toy donation total of 892 and thanks to many generous donors we far exceeded that goal."
Make-A-Wish® Eastern Ontario grants life-changing wishes for children with critical illnesses in our community and are on a quest to bring every eligible child's wish to life since having a wish granted is an integral part of a child's treatment. "Our hearts were filled with pure happiness right before the holidays as the countless number of toys started pouring into our office! These toys provide smiles, happiness and a great source of distraction for our wish children and their siblings. We are very grateful to eQ Homes and their clients for their generosity. It's a pleasure and honour to partner with local companies such as eQ Homes who value giving back to their community" says Tanya Desjardins, CEO at Make-A-Wish Eastern Ontario.
"We'd like to give special thanks to everyone who took the time to bring in toys and assist us in helping wish children and their families," adds Katherine Toms. "At eQ we feel it's important to support local charities and local businesses, and this toy drive allows us do both at once."
-30-
For media inquiries, please contact:
Sigale Goldstein | 416-988-1125 | sigale.goldstein@outlook.com
RYAN DESIGN INTERNATIONAL
100 Sunrise Ave., Suite 111
Toronto, ON M4A 1B3